Sammy Rhodes - sexy girl photos
Birth Date :
November 10, 1983
Birth Location :
Connecticut, USA
Measurements :
32D-27-36
Height :
5 ft 2 in (1.57 m)
Weight :
110 lb (50 kg)
Eye Color :
Blue
Hair Color :
Blonde
Tattoos :
back
Piercings :
tongue, nipples, navel
Orientation :
BiSexual
Ethnicity :
Caucasian
Nationality :
American
Aliases :
Sami, Sammie, Sammi Rhodes,
Sammie Rhodes, Sammy Rhodes
Sammie Rhodes is a porn actress that first began working the the adult entertainment industry when she turned age 21, in 2004.

Rhodes was a straight-A honors student who graduated high school early, but then lost focus. She went to three colleges, without graduating from any of them. She says "I wanted to be a vet, then I wanted to be a lawyer, then psychology. I changed so many times. I had big goals planned for my life and here I am." She credits her pornographic agent for getting her life in order. "I was stressed, I drank and was immature. But under the influence of Skooby, I got my act together. Now, I take care of myself physically and mentally. I take responsibility for my actions, eliminated the drama from my life, and am the healthiest and happiest I've ever been in my life."

Rhodes worked with a mainstream modeling agency in Connecticut before adult modeling in Boston led to harder core pornography. She moved to California on May 26, 2004 to make adult films. Her parents were supportive of her pornography career, but her siblings, a sister and older brother, were concerned. She is bisexual in her private life, but specializes in girl/girl sex for films. After some initial boy/girl scenes, she decided she will not perform with men.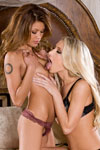 Sammie Rhodes
& Charmane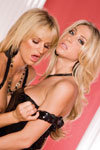 Sammie Rhodes
& Brooke Banner

Sammie Rhodes &
Ashlynn Brooke

Sammie Rhodes